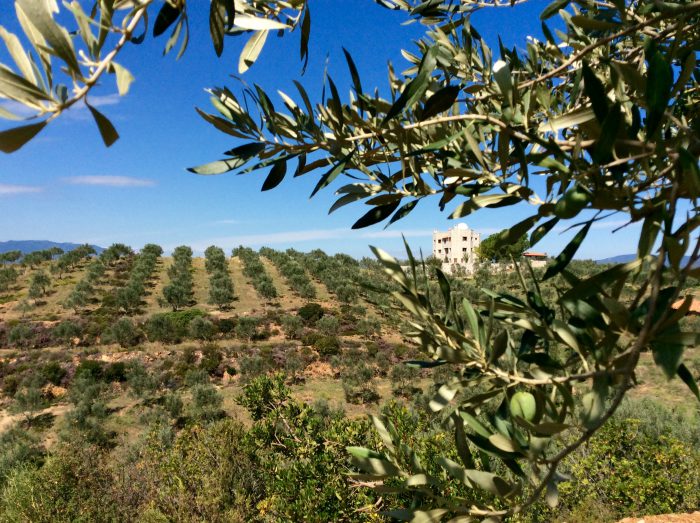 Breakfast at Koumaria's. Coffee, orange juice, toasted bread. Tahini and plum jam help structuring the concept of morning energy. The residency is still empty, some music is yet in progress. And nature all around is overwhelming. Getting ready for a wild walk.
Rasmus and his oneiric music dreams, lost in details, extremely treated in their own rise, brought into life by a wooden piece provided with guitar metals and strings.
Yorgos and Panos, and their thoughtful conversations in Greek dealing with projects drafts and ideas.
Music still goes on. The ambient-like back sounds suddenly become pleasant noise of electronic wind.
Residents arrive at around five o' clock in the evening. The atmosphere established is immediately intense. Huge eye connection is felt among human beings, no matter their age nor their origin. Very much open is the spectrum of topics discussed, and passionate the tone used to familiarize with one another.
Small talks and very much laughs.
Then dinner time comes. And it's instantly authenticity, fellowship, affiliation with one of the fundamental reasons of life. Afterwards, each resident is brought to speak about him or herself and the own idea of working inside of the collective project. Diaspora and migration are the two big themes of inspiration. Some scheduled meeting with locals, and excursions here and there, are suggested to participants as useful for them to be involved in the mood of the residency and of the topics investigated. A lot of aesthetically relevant ideas, as well as philosophically experimental, are put on the common table to be brainstormed.
Tonight is the night of great planning, big individual exposure, noble expectations and dispersive ambitions.
Let's go on action
by Rossella Salzillo (Intern)